Moving a big refrigerator is certainly a much heftier task than moving a microwave oven, for example. However, that does not mean that packing, handling and transporting small appliances during a house relocation is an easy and effortless job. Many of these appliances are rather fragile and if they are not well-packed, they can get damaged. That is why you should never underestimate the moving of small home appliances such as coffee makers, slow cookers and etc. If you have a large collection of such items, you can use trusted packing services in London. Most professional moving companies in the English capital have a specialised team of trained packers. If you hire a skilled man and van in Burnt Oak HA8, you will even have the chance to enjoy this additional service at a pocket-friendly price.
You can also try and pack your small appliances alone. However, if you want to do that properly, you will need to follow four key rules. Also, you will need to buy some packing materials that include:
Cardboard boxes;
Tape;
Packing paper;
Bubble wrap;
Clean and dry
The first step which you should take when you prep your small house appliances for a move is to clean them well. For instance, if you have some leftover coffee in your coffee pot, take it out of there and wash the pot. Leave it to dry or wipe it well. When the appliance is fully dry, you can get to step two.
Disassemble
Make sure you disassemble your appliances. If you still keep their manuals, you can check for instructions on how to quickly and safely do that. Take out all extra parts so that they don't break during the move. This means that you should remove the glass tray from your microwave oven, for example.
Wrap and pack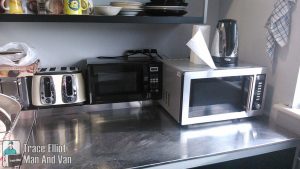 Once you have cleaned and disassembled all of your small domestic appliances, it is finally time to get to the actual packing stage. It is vital to pack these items in cardboard boxes as this is the best way to preserve them. However, do keep in mind that some appliances can be quite heavy. Therefore, it is best if you tape well the bottom of the box to prevent it from opening under the weight of the item. If you still keep the original boxes of the appliances, be sure to use them. You can pack more than one appliance in a single box but do not stack heavy items over light ones. Also, wrap each appliance separately from its additional parts. You can use old towels, blankets or bubble wrap for that purpose. Fill up the box with packing paper to prevent the items from shifting and knocking against one another during the transit process.
Don't forget to label the box
Label the boxes as fragile so that the movers know that they must handle them with extra care. You can do that by putting special labelling stickers on the boxes or by simply writing down "Fragile" with a black marker. Even if you are using the professional assistance of a vetted and equipped experts, like Trace Elliot's qualified man and van in Hoxton N1, you will still need to meticulously pack your small appliances to enjoy a safe house move.